BAADER Maintenance work on machines installed onboard a ship is not easily done. The time a vessel spends at the harbor is often only a couple of hours each time, which makes it difficult for our engineers to get enough time to do the maintenance work required on the machines. Often, this challenge results in BAADER machinery not being serviced as frequently as needed to keep the high yield, which has obvious drawbacks. An unmaintained machine just produces a lower yield.
Our Service Engineer doing maintenance work at sea
However, where there is a will, there is a way. We care about maintaining BAADER machinery, so to provide proper maintenance service on Enniberg – a vessel with a BAADER 190 and BAADER 99 – our chief BAADER engineer, Atli Larsen, boarded the ship and sailed away on a trip to the Barents Sea, where Enniberg was engaged in fishing. During the hours the machines weren't used onboard, Atli managed to do the demanded maintenance work on both machines.
BAADER 190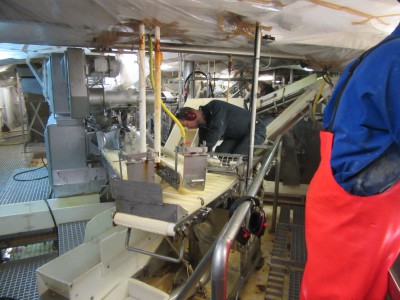 Last time Enniberg was in the dock, Atli had the opportunity to do BAADER maintenance work on this machine. At that point, the machine had been running for a couple of years without any maintenance work done by Petur Larsen, which resulted in a lot of necessary maintenance work.A
This time around, there were only minor things to fix to keep this machine running smoothly.
The BAADER 190 was the first machine in the world that was capable of producing absolutely boneless fillets cut from cod, pollock, and haddock within the range of 22–66cm. Even though the BAADER 190 isn't producing the highest yield, it is an incredible firm machine that is very efficient in filleting up to 65 fish/min.
BAADER 99
The BAADER 99 filleting machine is not a common sight these days. Not many of these machines are left on the market, and BAADER never made a direct successor to the BAADER 99. Therefore, this machine is in very high demand, and onboard Enniberg, the crew members are lucky to have this machine. The BAADER 99 is the perfect machine for large white fish.
Just as with the BAADER 190, there were only minor adjustments and some parts replaced.
In the BAADER manual, the machine is described as follows: "The machine is designed for processing gutted and headed cod, saith and haddock, ungraded with an overall length of 50 to 120 cm."
The BAADER 99 has the capacity of running 18 to 25 fishes per minute.
Returning home after BAADER maintenance work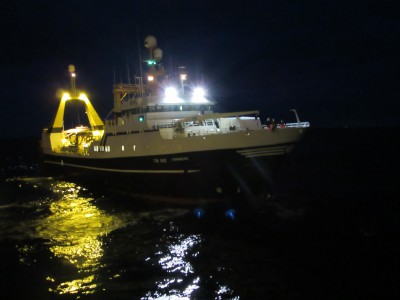 When Atli had done his BAADER maintenance work, Enniberg was still fishing and was not about to return home. The solution was nearby as another vessel, Sjúrðaberg, was fishing in the same area and was just about to sail home. Atli jumped ship, so to speak, and was soon back at our workshop here at Petur Larsen.
Talk to us
Talk to us, if you need your BAAADER machines properly maintained. Send us an email and we'll get back to you as soon as possible. And remember, we work all around the globe, so this applies to you where ever in the world you are placed.